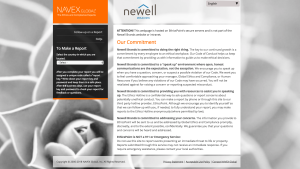 The Ethics Hotline is a confidential way (where allowed by applicable law) to ask questions and share concerns about potentially unethical conduct. The Ethics Hotline is hosted by EthicsPoint and operated by NAVEX Global, an independent, third-party company. When you contact the hotline, your report will be documented in detail and addressed by Global Ethics and Compliance promptly, discreetly, and to the extent possible, confidentially. You may speak or write a report in your own language. Reports may be made anonymously where permitted by law. Employees may also turn to their manager, the Global Ethics & Compliance team, or Human Resources to report their concerns.
Newell Brands does not tolerate retaliation against an employee who cooperates with an investigation, raises a concern or reports suspected misconduct in good faith. Raising a concern in "good faith" means being sincere in providing honest and accurate information, even if it later turns out the reporter is mistaken. We take claims of retaliation seriously – anyone found to have committed retaliatory act is subject to disciplinary action, up to and including termination.
Once a report is submitted, the Global Ethics & Compliance team will review the details of the report as soon as possible and notify the reporter when the report has been received.
How to Submit a Report
Ethics Hotline
Online: Visit our reporting website.
By Phone: U.S.: 888-255-8163 / Outside U.S.: View a full list below.
Contact the Team
Global Ethics & Compliance Team: Ethics@newellco.com
Chief Ethics & Compliance Officer: Malini.Sangha@newellco.com
Global Ethics Hotline Dialing Chart
Country

Access Code

Toll-Free Number

Argentina
N/A
0800-666-0635
Australia
N/A
1-800-68-7950
Belgium
N/A
0800-7-8759
Brazil
N/A
0800-892-1674
Canada
N/A
855-673-8442
Chile
N/A
123-00-20-9254
56-257-08428 (Santiago)
China
N/A
10-800-711-1138
or 10-800-110-1062
Colombia
N/A
01-800-5-1-81847
Costa Rica
N/A
0800-0121386
France
N/A
0800-91-9915
Germany
N/A
0800-184-4181
Guatemala
N/A
1-800-6240091
Hong Kong
N/A
800-933437
India
855-673-8442
000-117
Indonesia
N/A
Collect 770-613-6300
Italy
N/A
800-878621
Japan
855-673-8442
00-539-111,
00-663-5111
or 0034-811-001
Korea
N/A
00798-14-800-6599,
00308-110-480
or 00798-1-1-009-8084
Malaysia
N/A
1-800-81-5932
Mexico
N/A
001-855-673-8442
Netherlands
855-673-8442
0800-022-9111
New Zealand
N/A
0800-447737
Philippines
N/A
Collect 770-613-6300
Poland
N/A
00-800-151-0023
Puerto Rico
N/A
855-673-8442
Russia
855-673-8442
8^10-800-110-1011,
363-2400,
8^495-363-2400
or 8^812-363-2400
Spain
N/A
900-9-61248
Switzerland
N/A
0800-56-3370
Taiwan
N/A
00-801-12-7101
Thailand
N/A
001-800-11-002-5311
USA
N/A
855-673-8442
Venezuela
855-673-8442
0800-1-00-4586
0-800-225-5288
or 0-800-552-6288
Vietnam
N/A
Collect 770-613-6300
United Kingdom
N/A
0808-234-1008