A leader in the labeling industry, DYMO® is charting the path toward a more sustainable tomorrow. Focusing on initiatives to advance the environmental responsibility of its products, packaging, production and transportation, DYMO® is investing in sustainability – one label at a time. Efforts in sustainability have led to exciting milestones like eliminating the need for ink or toner cartridges in all DYMO® labelers4 and ensuring all DYMO® LabelWriterTM paper labels are free from BPA.
Over the last ten years3, DYMO® has achieved a 73 percent reduction in the use of fresh water during production2 and a 27 percent3 reduction in energy consumption at one of the main factories, located in Belgium.
DYMO® has furthered its commitment to sustainability by diverting consumer waste materials to create recycled packaging. For example, the packaging used for the DYMO® cardboard sleeve and box label is made from 80 percent recycled materials while the plastic blister label packaging is made from 60 percent recycled materials. Where feasible, efforts are also made to create products from recycled materials, such as DYMO® cassette tapes which are made from 100 percent recycled materials that come from scrap that would otherwise be disposed of by manufacturers.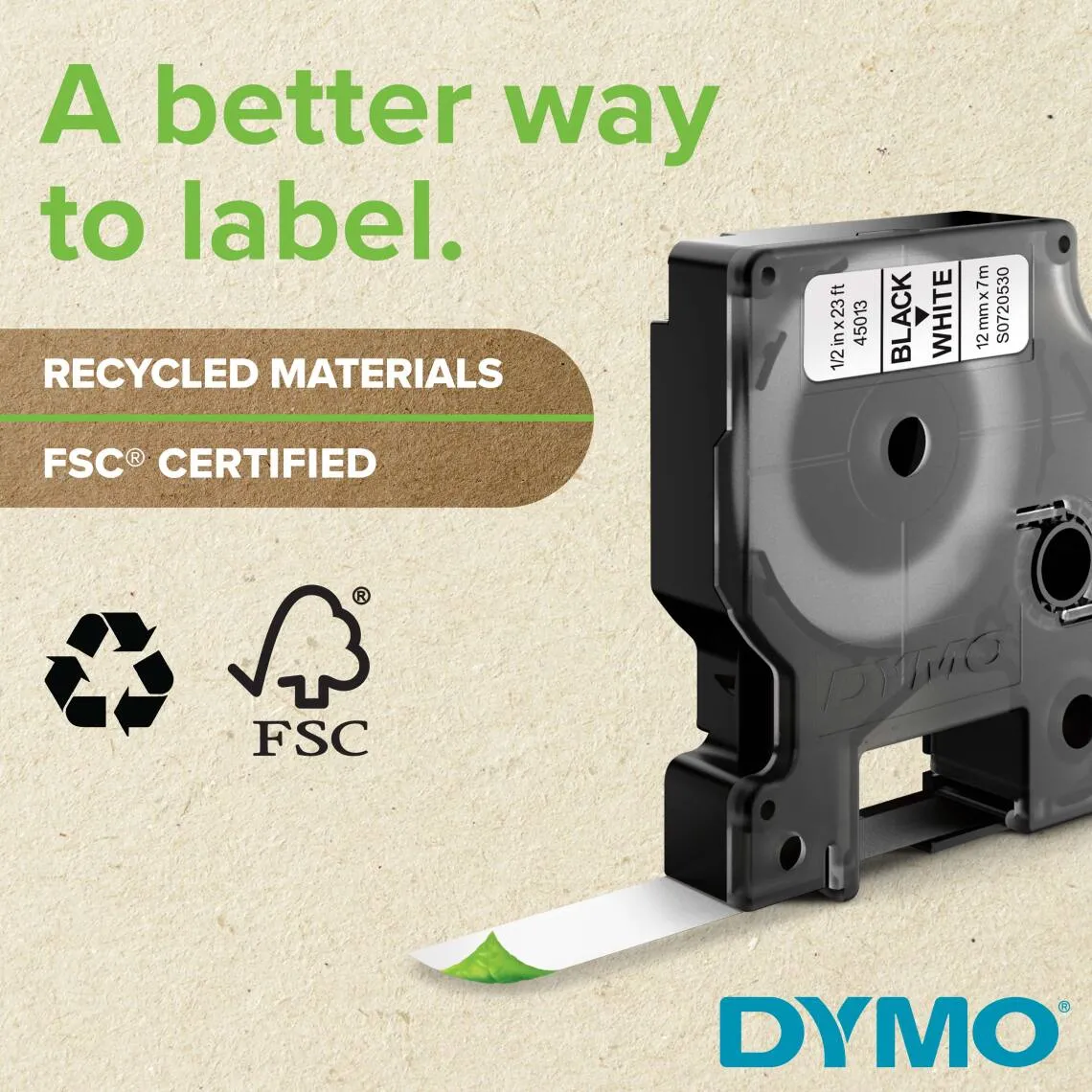 In addition to incorporating recycled material into packaging, DYMO® paper products are FSC Mix certified. This means that these products are made of material from well-managed FSC® certified forests and other controlled sources. FSC® stands for the Forest Stewardship Council® which is a global non-profit organization dedicated to the promotion of responsible forest management around the world.
Together, these products and initiatives aim to empower our consumers to live more sustainably and ultimately make the world a greener place. To find out more about DYMO®'s sustainability efforts, check out their website at https://www.dymo.com/sustainability.html .
2D1® Standard labels, D1® Durables labels, all LetratagTM labels, Embossing plastic labels, Rhino labels, XTL labels, LabelWriter® durable labels | 3Research conducted by A Greener Refill™ LLC 4DYMO® LabelWriter™, LetraTag™, LabelManager™, Embossing™ product range