In honor of Baby Safety Month, and as part of the Newell Brands Charitable Foundation's focus on Child Safety and Development, Newell Brands donated $10,000 to support Baby2Baby's Sweet Dreams initiative, which aims to provide every child with a safe place to sleep.
The Graco team also donated over $250,000 worth of products including car seats, strollers, playards, swings and highchairs to support Baby2Baby's Wish List program, which allows families to request high-need safety items. Educational materials on car seat safety and safe sleep will accompany the donation, helping to support Baby2Baby's programs and providing parents with tips and tools to assist in keeping their little ones protected.
Crib safety is an extremely important issue to Baby2Baby, because the cost of safe sleep options is prohibitive for so many low-income families, making children living in poverty the most vulnerable.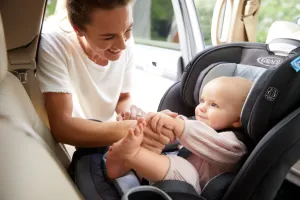 This partnership is rooted in the shared belief that all children should have access to a safe place to sleep, a safe mode of transportation and a safe place to develop, grow and learn.
To learn more about Graco and their latest products, visit GracoBaby.com , and to learn more about Baby2Baby, visit Baby2Baby.org .