Our Code of Conduct sets out clear guidelines on our commitment to doing the right thing. To ensure that our Code is at the heart of everything we do, we have a dynamic Global Ethics & Compliance program focused on upholding and promoting the high ethical standards in our Code.
Code of Conduct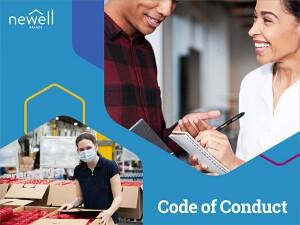 The key to our continued growth is a commitment by every employee to an ethical workplace. Our Code of Conduct helps us keep that commitment by reflecting our values and providing us with information to guide us to make ethical decisions consistently as we conduct business globally. Employees are encouraged to speak up through our various reporting channels about any issues, questions or concerns they may have related to topics covered in our Code or if they see or suspect anything that is unethical or illegal.
We do not tolerate retaliation against anyone who raises a concern in good faith. In fact, our employees will not be retaliated against in any way for seeking advice, raising a concern, reporting suspected misconduct in good faith or cooperating with an investigation.
Our Code applies to all employees of Newell Brands, regardless of location, seniority, Segment or function, including our Board of Directors and our Executive Officers. Additionally, all Newell Brands employees and Directors are required to complete mandatory Code of Conduct training. Select employees must also complete additional training on specific topics in the Code based on the nature of their role and function.
Select a language below to view our Code of Conduct.
Ethics Hotline
Newell Brands is committed to a "speak up" environment where open, honest communications are the expectation, not the exception.
Employees and third parties can report potential violations of our Code, policies or laws and regulations to the company's Ethics Hotline. The Ethics Hotline is operated by an independent, third-party hotline provider, and allows individuals to anonymously submit a report (where permitted by law). The Hotline supports multiple languages and is available 24 hours a day, 7 days a week. Employees may also report their concerns to a manager, Global Ethics & Compliance, Internal Audit or Human Resources. Ethics & Compliance reviews and investigates all reports made to the Ethics Hotline.
Speak Up and Anti-Retaliation Policy
Contact Us
If you have any questions about our Global Ethics & Compliance Program, please contact us at ethics@newellco.com to connect with a member of our Global Ethics & Compliance team.