Known for their long-lasting products and revolutionizing kitchen innovations, Oster® has launched its latest gadget: the Oster Hand Mixer with HeatSoft Technology.
Designed by our team in Boca Raton, Florida, the mixer's patented technology releases gentle, warm air while mixing to help soften butter to room temperature, 12 times faster than leaving butter on the counter for 30 minutes.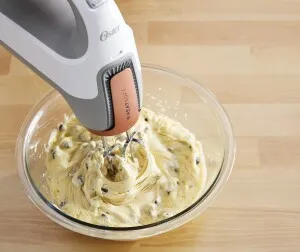 "In baking, many recipes call for butter to be at room temperature, requiring home bakers to either plan ahead and leave butter on the counter to warm, or microwave it, which can compromise final results," said Aileen Bilyeu, Director of Brand Development, Oster. "With the Oster Hand Mixer with HeatSoft Technology, home bakers can quickly and easily bring butter to the desired temperature in just one step while mixing to achieve their desired baking result."             
The mixer comes with 7-speed control, a Boost Power Feature for those extra-thick batters and additional attachments.
Pick one up today here !