For the 6th year in a row, Newell Brands participated in the 2019 International Home + Housewares Show (IHHS), the world's premier exposition of products for the home and an opportunity to present recent product launches and exciting innovations from some of our leading brands like Crock-Pot, Calphalon, Contigo and Mr. Coffee.
Hand-picked by the Good Housekeeping Institute members, Mr. Coffee's Easy Measure® Coffee Maker was included on Good Housekeeping's list of the Most Wanted Home & Kitchen Products, an annual recognition given to the show's top innovations. Out of 9,000 products on display, only 15 made the cut.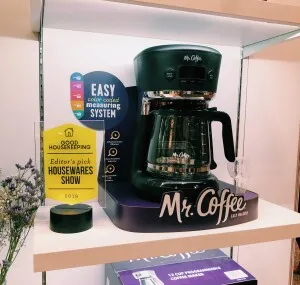 Mr. Coffee's newest innovation simplifies coffee-brewing experiences like no other. It comes with a color-coordinated measuring scoop system and extra-large brew basket, allowing users to prepare the perfect amount of coffee grounds each and every time. As if this innovation wasn't noteworthy enough, its freshness indicator shows when the pot was brewed.
Say goodbye to old, stale, weak or over-strong coffee by picking one up today here .